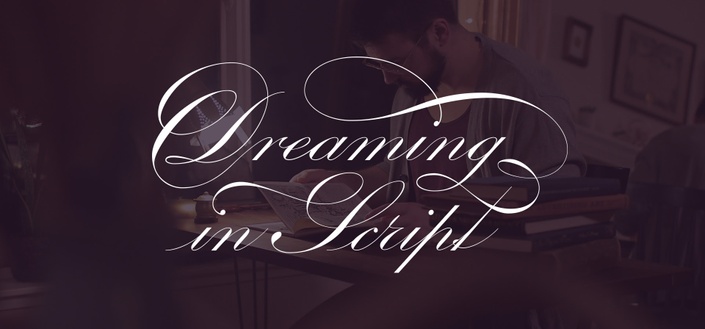 Dreaming In Script is an online training program for tranditional American penmanship.
This course is not open for enrollment. Please check https://masgrimes.com for more info about the new online program in 2020.
"Do good work in your own way, learning as much as possible from this and other sources."
C. P. Zaner - Founder of The Zanerian College


Dreaming In Script is a one-of-a-kind online training course detailing the traditional style of calligraphy known as Engrosser's Script.
Developed with beginner and intermediate calligrapher in mind, this course covers everything that someone interested in gaining skill with Engrosser's Script should know across twelve distinct sections of information-dense lessons. Whether this is your first calligraphy course or you've been writing for years, you'll find valuable insight and historical nuance within these lessons that has never been published anywhere else.
Students are encouraged to pursue this course at their own pace, absorbing each element at a speed that makes sense for your individual life, learning style, and goals with calligraphy. Techniques for self critique are taught in the early sections of this course, and all assignments are for personal evaluation. There are no homework due dates or deadlines.
A members only Reddit forum allows students to work together in small groups, discuss ideas and concepts for innovation, and ask for feedback from the community and the instructor.
Course Curriculum
2. Introducing the Principals - Strokes 1, 2, and 3
Available in days
days after you enroll
3. Finalizing Principals - Strokes 4 & 5
Available in days
days after you enroll
Suggested Materials
In an effort to keep the materials list for this course as small as possible, I'll encourage you to consider each of the following items carefully before purchasing anything new. You'll need one of each, but brand/maker are completely up to you. If you're buying online, check out my teacher page on John Neal Books.
A pencil and eraser. Any old thing will do. Softer lead (B) erases easiest. :)
A straight edge/ruler for drawing your own guidelines. I prefer this one: Westcott Grid Ruler (B-1M).
Some paper that you can print these guidelines on. Many instructors recommend HP Premium32 Copy Paper. I find that's the most readily available for most people, but you can also print on paper from pads as long as it is thin enough to feed through your printer or draw your own guidelines on whatever paper you prefer.
Some ink. Walnut or Moon palace sumi are my preference. If you'd like to work in color, try to use something with high contrast so that you can clearly see your lines. That will be important for most of the course. Try to stay away from distracting (sparkly) inks until you're working on projects. Keep it simple for practice!
A couple nibs. Whatever you prefer, though I recommend something along the more flexible end of the spectrum. A Hunt 101 or LPEF would be my first recommendations. Zebra G nibs are rather stiff, and I avoid them--but it's up you to you!
An oblique holder. The only requirement is that your pen has a metal flange. The flange is the portion of metal that sticks out of the side of the business end of the holder. It needs to be metal so that you can make a few simple adjustments to it which will help you with certain types of pen manipulation. A good choice is the Dual Workshop Holder on the JNB page.
A computer with internet connection. The course can only be viewed from the browser and downloading of the videos is against my terms of use. Some of the files can get large, since the images are such high-resolution. Streaming the videos in HD might be harder on slower connections.
A clean space to write. This is less of a 'what you need to buy' item, and more 'what you need to make'. Find a space that you can consistently practice that has a room for both a computer AND your writing materials. When you are practicing the materials from the course, clean the table off so you are working in a distraction-free environment.
Section Releases
Students are encouraged to keep pace with their section release schedule ONLY if they have time to fully absorb and diligently practice the exercises and topics covered. This course unlocks at a rate of one section per week for twelve weeks. There is no downside to taking longer to complete each section than is prescribed via the speed they become available. You get to keep all the lessons. They don't go away. The only downside is in rushing through the materials. Embrace your own process. Do good work in your own way.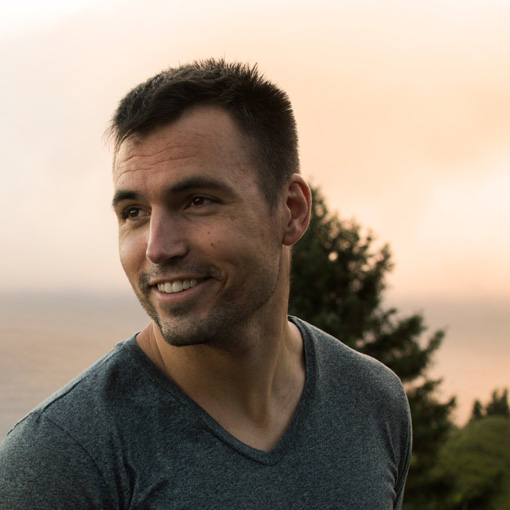 Hey there!
I'm David from Masgrimes, a calligraphy and lettering arts studio in Portland, Oregon. You may know me from Instagram, where I share some of the work that occasionally comes across my desk.
I love Engrosser's Script for several reasons, but the main one is the way it makes me feel. Once we get through the basic ideas and strokes, you'll find that there is this magical flow to the actual creation of script. It's peaceful. Grounding.
From working with thousands of students both in-person and online since 2015, I know that if you dedicate yourself to these materials and this course, beautiful, thoughtful script is waiting within your pen, just around the corner. I'm so excited to get to walk this path with you, and I'm really looking forward to seeing the amazing work you're capable of. See you in class!
Frequently Asked Questions
---
Is this course "Beginner Friendly"?
---
Yes. This course is built in a way that it covers everything from the ground up. The beginning lessons detail everything from history to how to dip your pen. As you move through the lessons, you'll find helpful links that call you back to topics already covered.
I have bad handwriting. Is Engrosser's Script for me?
---
Having bad handwriting doesn't disqualify you from being skilled with the pen. Contrastingly, having beautiful handwriting doesn't mean that it will come naturally to you, either. I would say that having some amount of dexterity with fine movement helps, so musicians might find certain types of movements more natural. That being said, you'd be surprised what a little practice can do to open up skills you never thought you had. My handwriting is nothing to write home about, for reference.
What is covered in the curriculum?
---
The course outline is published on this page, but in general this course covers the basics of calligraphy and dip pens, the foundational strokes of Engrosser's Script, letters both minuscule (lowercase) and majuscule (uppercase), simple words, sentences, basics of layout and design, theory, history, and the personal growth aspects of studying Engrosser's Script.
How are the lessons presented?
---
Each section is made up of a number of lessons. Each lesson can contain any number of videos, essays, reading assignments, project outlines, graphs, diagrams, or quizzes. The individual lessons are structured like web pages, with short videos interspersed, rather than single long videos with essays tacked on. All reading assignments will refer to publicly available FREE books and images that can be found on Internet Archive or in the Masgrimes Archive.
Do I need special (expensive) materials?
---
Definitely not. Everything in this course can be achieved with a modest amount of supplies. You do not need a special pen for this course, but you WILL need a pen that has a metal flange, so the plastic speedball pen that is popular at most art stores won't work for our needs. Chances are, if you're a calligrapher, you have everything you need. I'm not super particular about what you should or shouldn't use. Though I do make my own recommendations. See the Materials section for details and links.
Do you grade homework or provide individual feedback?
---
Unfortunately, No. The time that it takes to offer personalized feedback to every student would make this course cost-prohibitive for most people. Instead, I've aimed to teach students to critique their own work through some simple exercises. There's a community forum feature which will allow for the submission of practice work and small group discussions. I'll be involved in that community, offering feedback and participating in discussions.
How long do I get access to the materials?
---
Registration closes permanently in October 2019, but you will have access to it for at least two years from that date.
What kind of refund policy do you have?
---
I'd hate to think that you'd get started and realize that this course wasn't for you. Please carefully consider the extensive curriculum outline and give my work on Instagram a look before you decide to purchase. This course may be a bit intense for people just wanting something fun to do that doesn't require a large amount of work. The curriculum is beginner friendly but is designed to produce moderate to high-level skill with the pen. I offer a 24-hour refund policy, in case you break your hands on the ceiling when you jump up after registering, but after that, sales are final. :)
When does the course start and finish?
---
This course is closed for enrollment.
I'm left-handed, can I still learn Engrosser's Script?
---
While left-handed artists can absolutely learn to write Engrosser's Script like everyone else, there are a few challenges that you'll face in addition to the exacting nature of the script. The largest of these is securing an optimal writing position. This course is taught from a right-handed perspective, because I'm right-handed. I will do everything I can to answer questions as we go along, but securing a position that you can work with is going to be up to you. nearly all of the materials in this course are exactly the same for right and left-handed calligraphers, it's just the way that they're applied that changes.